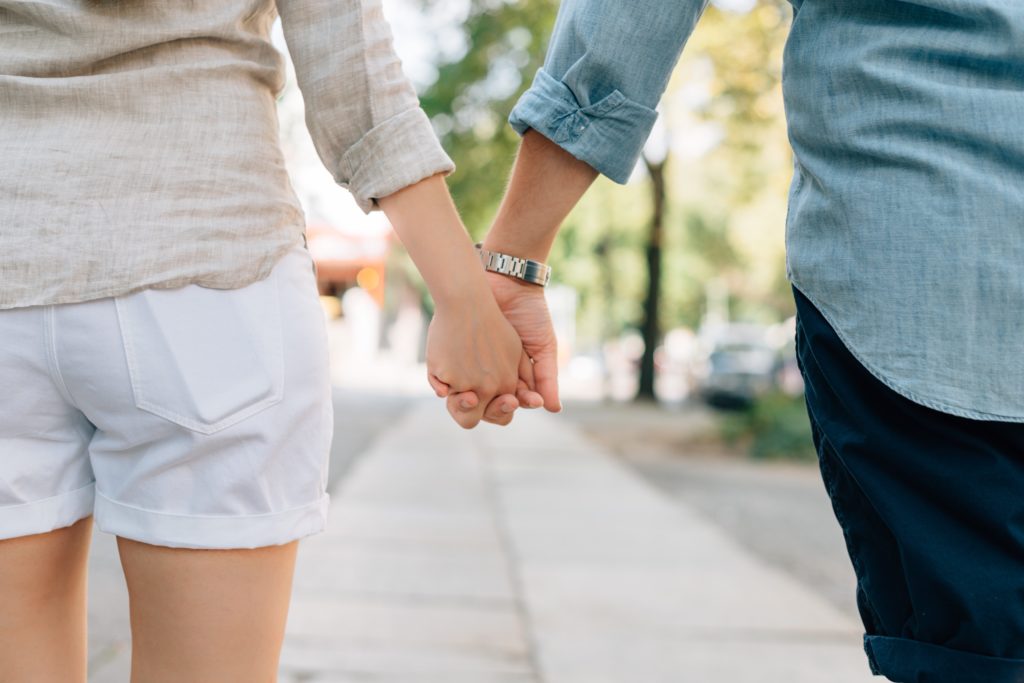 Typically, when people hear what I do for a living, they gasp or shake their heads. "You work with marriages? Wow, good luck with that!"  
I'm always like, "Thanks, I love it!" Within minutes they are either asking for my card or ratting their spouse out for something. In front of me. Just a tad awkward. But it's never boring, right?
There's no denying it. Like it or not, marriage is a hot and heavy topic for everyone in our culture. And with roughly half of marriages ending in divorce, many people are hanging on for dear life.
Is this you today? Did you click on this article because you genuinely want help? You who are hanging on for dear life in your own marriage today as you read this?
If so, I can tell you this much.  That dear life is worth hanging on to.
As this week's freebie, I'm sharing seven extremely important tips for communicating effectively in your marriage. Why? Whenever I do surveys or meet with couples, this is the number one reason they are feeling marital stress. I go into depth about each of the seven tips if you want to hear more. But in the name of practicality, I've even make it into a one-page freebie for you to print so you can keep it on your fridge, crisp and clean and ready to go! Grab it here >> Marriage Communication Tips <<
But who am I to give you advice about marriage communication? Well, I got my start in the field younger that most. As the baby of the family, I was a third party to a lot of my parent's fights after the others had left home. If you picture Notebook-movie-worthy stormy marriage moments but with four kids tagging along, one teacher's salary, and no air conditioning in summer, you've about got it.
I would occasionally get so frustrated by my parents' arguments that I poked my head right in the middle of their spats and offered my two cents. By the time I was in 9th grade it was official. I did my research paper on Freud and laid my best friend on my bed and made her talk about her boyfriend stuff  while I typed notes in my dad's MacIntosh Color Classic (she is happily married to the guy, 20+ years later!).
So you see, even if you chalk it up to a weird beginning  I have always loved helping individuals and couples out of sticky situations. My parents had a happy ending btw after some good therapy with a real shrink, and I got some good counseling after those years, too (Are you kidding me, of course I did!)
But I did go to school too, assuming you want more credentials.
I completed my master's degree with independent studies in marriage from the Harvard of evangelical schools, Wheaton College. I have other degrees in both psychology and communications as well, both of which I loved studying SO much!  All of this, complied with my own marriage of fifteen years, as well as over a decade of professionally helping other couples via therapy and coaching helped me to create my own business and marriage program. (So the communication tips you're getting today definitely didn't come cheap!)
But why does the world need yet one more marriage program?
Well, by now you know how much I love to study couples. And after using most of the popularly lauded tools out there for couples (and believe me, there are TONS), I was SO  FRUSTRATED!
Frustrated because I was getting bits and pieces of amazingly good info but it was literally all over the place. Humanistic psychology said all we need to do is to validate one another, Freud says it's all rooted in the past, cognitive-behavioral studies say we simply need to change our thought patterns and family systems theories say we are part of a bigger reality, dependant on one another's responses.  Oh, and we need Jesus too, above all of that.
So that was all good and inspiring but I knew if couples were going to receive the very best help they could from me, I would need to put my creative side to work and make a phenomenally fun program that would be be concise, efficient, and incorporate elements of the truth from all of these wonderful studies.
The cool thing was, that after studying so intently within each of these philosophies, I knew what to take from each. And after specializing with couples for over a decade, I knew their need intimately also.
I realized that most people are strapped for time and money, and the last thing they want is a plan that will make them wait two years or more doing complex theorizing. Even though many times couples want to keep seeing me for regular maintenance, they want results and they want them quickly.
And they deserve that. Life is tough enough, marriage should be fun.
And I knew I could give that to them if I could integrate all of the countlessly wonderful martial tips I have learned from all of these places and people into one consolidated program.
So I did.
Shortly after beginning my own counseling center, (Reflections Counseling and Coaching) with my husband, I chose to create a successful marriage program, the R & R Relationship Repair Program. This course helps couples from day one and brings them on a journey to relate healthily to one another again (Module 1: RELATE) and to release emotional bondage that has been keeping them apart (Module 2: RELEASE) also.  
       This total marriage repair program does not take every cent of my client's money or too much of their precious time. Together we move efficiently through the materials and each of the two modules that are only six sessions long (See my recommended six week courses here). Couples are typically getting results by the end of the first hour long session!
If you want more news about my R & R Relationship Repair program, click here.  I promise not to bore you or take you into any complicated theories. I have done the major research for you – I know how valuable your time is and I know you want relief!
R & R offers you pure and simple marriage communication training that will help you to thrive. In each of my my training modules, I integrate biblical wisdom with the best and most obvious common sense tools for healing marriages.  But how do you know it works?
Just ask around. My client testimonies speak for themselves.  I know that if you too put your best foot forward in the R & R program,  your results will be amazing. Couples who have gone through the program report that they:
Have improved communication.

Have more quality time together.

Enjoy intimacy more.

Have more recreational time together.

Know how to repair after a fight.

Laugh together.

Know how to de-escalate (calm down) during a fight.

Have better self-care.

Deal better with in-laws.

Have better boundaries.

Know how to get through grief together.

Grow closer to God together.

Meet individual goals with more success.

Have more romantic gestures together.

Have more consideration for one another.

And there are many more positive outcomes, too numerous to list!
So, whether you reached this article because you're doing one of my programs already, or through my business Reflections Counseling and Coaching, or just because you love reading about marriage, I'm glad you're here.
Whether you want to jump into the program or not, I'm happy to help you. I love giving away TONS of free content (writing and teaching are both a 10 out of 10  for me!) so you can get my weekly LOVE NOTES  for free if you click here.
And don't forget, if you love these marriage communication tips, don't forget your >> Marriage Communication Tips << . So enjoy the read and thanks for making it through the end of my story, too. I can't wait to hear yours!