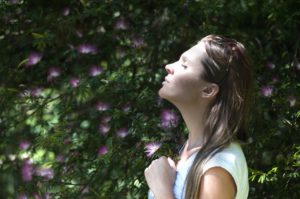 I thought I may never recover after that LIVING nightmare which culminated with a tender bite mark on my flesh.
The little boy, my cousin, had been in a rage.
He had tantrummed, carried on, and given me a huge headache…
At age 12, doing one of my first babysitting jobs ever, I was totally spent.
I was far from a perfect sitter, trust me! Losing my temper, I scolded him too gravely and we were both in tears, as was my normally docile aunt who was there to supervise without comment.
And although this was a little like babysitting Rosemary's Baby, I've since recovered.
Still, let's face it. You and I both know we've made mistakes along the way in parenting, relationships, with self-care, and with friendships…
Sometimes the mistakes are BIG ones. Bigger than a babysitting job gone wrong!
Which brings me to this.
Often, when you've already made some big mistakes, you feel like you may as well keep going.
I already said it. I can't go back…I wish I could but I can't.
He'll never love me again after I did that.
Now that I've backslidden with my drug use, I may as well not even try to quit.
Forget healthy eating, I'm a stress eater.
My kids are out of control. I've ruined them.
If these defeatist types of statements sound familiar to you, I'm glad you're reading this.
Because you need to know something powerful…
It's never too late.
However ingrained your personality or habits are from a stressful situation or even years of stress, change is always possibly.
Believe me, if I hadn't seen change happen in people and even in myself SO many times, I may not be a believer.
But I have and I am.
And that makes all the difference.
Your story may have started out full of stress and anger like mine, but it doesn't have to end that way. What I mean to say is….
You were made for helping others (Mark 12:31), for feeling positive (Philippians 4:8), for enjoying confidence (Phil 4:13), for problem-solving (Proverbs), and for taking care of your body (1st Cor 6), not to mention finding refreshment after a hard day's work! (Psalm 23:3)…
God's mercies are new every morning to help you find that perfect reset!(Lamentations 3:22-23)
So let your stresses teach you about yourself…
My cousin helped me to grow in patience and resilience, to understand my own raw emotions when under stress…
And to get some space since I clearly wasn't ready to handle him on my own.
Sometimes you can solve the problems with some reflections all on your own.
And sometimes you need Reflections 🙂
So whether today you're hurting in your marriage and are ready to give up…
Or you made yet another parenting blunder…
Or when you truly just don't know how to deal with your issues with food, control, or all of the above…
Don't forget it's NEVER TOO LATE FOR CHANGE.
Love Living Life Intentionally With You,
Christa and the Reflections Staff