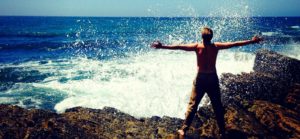 The feeling of incredible embarrassment crawled through me when I forgot to light the candle at my National Junior Honor Society induction many years ago.
I thought it had gone well until my peers snickered and whispered to me to tell me of the horror I had committed after my turn had passed. Filled with the extreme mortification of a true middle schooler, I wanted to hide!!!
You too know what embarrassment feels like…
It feels like vulnerability…
Whether it is a mistake at the job or in public speaking, or it involves a deeper grief such as a loss of mobility, independence, or a relationship, vulnerability can be just plain hard.
And yet this week, I want to encourage you to remember that being vulnerable and getting up again after your failures and despite your limitations is SO worth the risk and temporary discomfort…
In fact, thousands of people have been studied in the face of hardship. And those who are the most successful, the most positive and the ones truly living abundant lives all share one thing (brenebrown.com)
Vulnerability.
Vulnerability is the belief that putting yourself out there is OK and even healthy because (and this is key) you know your intrinsic worth. Vulnerability leads to healthy change, creativity, and innovation!
Those who can't or won't be vulnerable (and thereby risk rejection) as adults often have an underlying sense of shame and perfectionism at the core.
I'm not worth it.
I must hide my pain at all costs.
I will be left or seen as incompetent if my pain or imperfection is open.
And maybe when they've experienced loss and risked vulnerability, perhaps one too many people said things like…
You're weak.
You're a screw up. 
Or maybe even"I'd literally go crazy if anything like that ever happened to me."
That last one takes the cake, really, in my opinion.
And if that's been said to you, you may want to just stop right there and give up being vulnerable.
But here's why I hope you don't.
The King of Kings finds you worthy enough to have died for you and He gets it even when others fail you. 
Man of sorrows, he was well awaited with grief (Isaiah 53:3).
When you truly let this sink in as well as the great value He places on your life and your gifts, you can be content with who you truly are, weaknesses and embarrassments and all.
One of my favorite Scriptures of all time that support this is this one; But He said to me, "My grace is sufficient for you, for my power is made perfect in weakness. Therefore I will boast all the more gladly about my weaknesses, so that Christ's power may rest on me." (2nd Cor 12:9)
With this awareness, that you really can't lose, you carry the kind of attitude that says to others,
We can both be vulnerable together because our relationship transcends superficiality. We can even laugh at ourselves or cry together in all of this as needed.
It also says, I know who I am and I would appreciate your support but my self-worth is already intact even if you choose to reject me. 
We at Reflections are here for you if you still need to grow in your understanding of your own worth to God in order to take that leap of vulnerability to do what you're made to do, to be who you're made to be, learning curves and all…
And you yourself can learn a more helpful way to show empathy toward others if it doesn't come naturally these days. We'll talk more about that later this week!!
Love Living Life Intentionally With You,
Christa and the Reflections Staff